COBURG – Meet and celebrate with culture
Coburg is a city of culture where everything is close by. Ehrenburg Palace is located only a few minutes' walk from the historic market square. The former residence of the dukes of Coburg is now home to the magnificent Riesensaal (Hall of Giants), the state theatre and its studio stage, Reithalle (Riding Arena), a puppet museum, a museum of natural history, an art association and of course the Kongresshaus Rosengarten. The Veste Coburg – one of the best-preserved medieval castle complexes in Europe – towers high above it all. Its arms and glass collections and collection of prints and drawings are internationally acclaimed.
Coburg Altstadt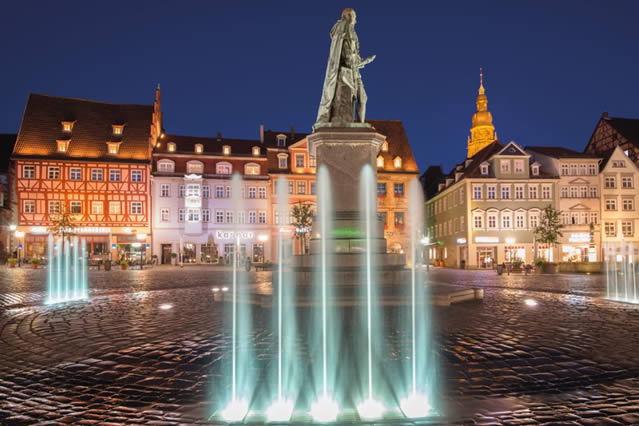 The Kongresshaus Rosengarten Congress Centre is only a stone's throw away from the popular Coburg Altstadt (Old Town) with its romantic alleys and squares. The pedestrian mall with its market stands, attractive shops and boutiques can be reached in just a few minutes.
Welcoming local pubs and traditional to high-end restaurants and hotels offer something for everyone. The delicious smell of original Coburg Bratwurst, grilled over pine cones, wafts through the city and ice-cream parlours tempt passers-by with a rainbow of flavours.
Coburg festivals
In earlier times, people mainly travelled to Coburg to visit the Veste. Today, they are probably more likely to come for the festivals!

The Franconians are famous for their festivals – especially in Coburg, where young and old love to celebrate. Traditional festivals such as the Coburg Vogelschießen (Bird Shooting) and the Coburg Schlossplatzfest – also known as the largest gourmet festival in Northern Bavaria – or the famous Marktfest (Market Festival) of the Coburg Convent are interspersed with country fairs of religious origins, exciting flea or Christmas markets, or even a spectacular Samba festival.


Coburg is Rio with Bratwurst and New Orleans with hops. Tradition and change are reflected in Coburg's festival culture, too.

Whether you are in town as a visitor or an event organizer, the wide range of options makes putting together an attractive social programme for you an absolute pleasure!


Discover Coburg...
www.coburg.de